Milan
An unforgettable vacation awaits cultural tourists visiting Milan, a city offering fashionable shops and ancient architecture. As well as being the "fashion center" of Italy, the capital of Lombardy, it is also a unique historical center; here, in fact, you will discover fascinating places of interest and authentic works by some of the major artists: Michelangelo, Leonardo, Caravaggio and others. And that is just a small part of the amazing city of Milan.
Article was last updated in October, 2023.
How to get to Milan and get around
By train
The journey from Monterosso to Milano Centrale railway station takes from 3 to 4 hours (with change of train in Genoa) and costs €30 and €23 respectively. It is not necessary to book and purchase tickets in advance as it can easily be done at the station in about 5 minutes. More information can be found on the page "By train".
By car
Traffic in Milan is very heavy and there are always traffic jams. We suggest you leave your car in a parking station outside the city. The cost is €0.40/h, €2 for 8 hours, €4 per day. It is best to use public transport. A ticket (€2) gives you 90 minutes travel time, and you can change among all means of transport. Google Maps supports getting around with public transport in Milan. And there is also an app from the Milan ATM (Public Transport).
What to see in Milan
To make sure you see the most important places of interest, we suggest you start at the San Babila metro stop. From here you can walk along 1the most famous shopping street. To the left is situated the gothic 2Duomo Cathedral. Climb to the top (210 steps to walk up and the cost is €13.50, or take elevator for €17.50). When you exit the Cathedral you will be in the most important square of Milan, the homonymous "Piazza del Duomo". On the right you will find the 3Galleria Vittorio Emanuele II: an ancient and luxurious arcade with unique stuccoes and wonderful shops and cafés, while in front of you is the street leading to the 4Castello Sforzesco and 5Sempione Park, where the famous 6Arch of Peace, which was built by Napoleon, can be found.
This is the most famous walk in Milan and can be done in a single day. But if you want to see more you will find other places indicated on the map.
Where to stay in Milan?
Tourists have an enormous choice: from the most expensive and luxurious hotels to low-cost hostels. An important aspect to consider is the proximity to the metro. View all hotels in Milan and take a look at all the options.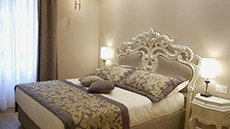 Domus Camillus
Price: high.
Rating: Exceptional, 10.
More information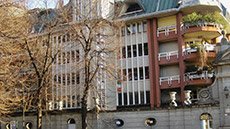 R&B Errepi
Price: low.
Rating: Excellent, 8.9.
More information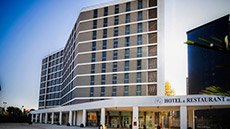 Hotel degli Arcimboldi
Price: affordable.
Rating: Very good, 8.2.
More information
Where to eat in Milan
Opposite the Duomo Cathedral (on the side where you take the stairs to the roof) is 7"La Rinascente" shopping center. On the top floor there are restaurants and bars with enormous terraces from where you can admire the unique architecture of the cathedral. Or you will find numerous cafes and restaurants throughout the city, with many of them conveniently displaying the menu and prices outside. The tourist menu is always a good deal.
When to visit Milan
From the first Saturday in July to the last Sunday in August the sales are on in Milan, meaning discounts from 40% to 80% on all clothing. It is definitely the best place to update your wardrobe!