Sestri Levante
Sestri Levante is a Ligurian town located between La Spezia and Genoa, which are two important Italian cities. Most of the trains terminate here, but rail connection resumes from Sestri Levante in various directions.
If you plan to visit the Cinque Terre and other towns it is a good idea to stay here and save on accommodation, because prices in Sestri Levante are lower! Moreover, this is a vacation area known as the Riviera di Levante, on a small peninsula between two colorful bays. Without Sestri Levante, Italy would not be so picturesque and charming!
Article was last updated in September, 2023.
How to get to Sestri Levante
By train
Many trains terminate in Sestri Levante. For this reason it is very convenient to leave from here to go north to Portofino (about 20 minutes) or to Genoa, and south to the Cinque Terre (30-40 minutes).
By car
We recommend booking a hotel with parking so you don't have to roam around Sestri Levante in search of a parking spot. Park between the white or blue lines. The cost for 2023 is 1.50 euro/h, with a daily maximum of 10-12 euro. Remember: in Sestri Levante, at the moment, even parking further away from the center is not free!
What to see in Sestri Levante
Strolling through the town (the main streets are marked on the map) of Sestri Levante there are places of interest which can be found at every step. You can visit the most famous beach in the 1Bay of Silence (Baia del Silenzio), overlooking the sea and enriched by the panorama of multicolored houses. In the evening we recommend a stroll through the 2town center: the nightlife in Sestri Levante, unlike the Cinque Terre, is abundant and lively.
What to see near Sestri Levante
One of the important advantages of Sestri Levante is the town's location which acts as a "transit point" for those traveling through Italy. Therefore, if you're staying in Sestri Levante, go to see Portofino, Genoa, the Cinque Terre and other places nearby (all information is available on our site).
Where to stay in Sestri Levante?
Tourists can choose from romantic and luxurious accommodation to a more economical option: there are hotels for all pockets and tastes in Sestri Levante. You can stay here a week, taking the opportunity to visit the surrounding towns and to spend some time relaxing on the beach or swimming in the sea.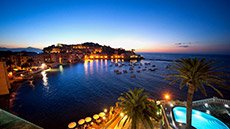 Hotel Helvetia
Price: high.
Rating: Exceptional, 9.5.
More information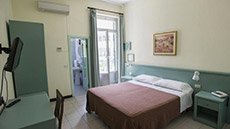 Hotel Marina
Price: affordable.
Rating: Wonderful, 9.
More information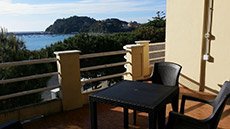 Baia delle Favole
Price: low.
Rating: Very good, 8.1.
More information
Or you can compare some of the hotels based on the comments from tourists and at the prices indicated on this page.
Where to eat in Sestri Levante
Amongst the large number of restaurants in Sestri Levante, only three have received the evaluation of "best", where a meal will cost about 30 euro per person. They are marked on the map. Eating in a restaurant in Sestri Levante is not easy, as you need to book a table at least the day before. In the evenings you can take a walk around, have a look and choose where to dine.
When to visit Sestri Levante
From March to the end of October the weather in Sestri Levante is suitable for swimming, visiting the town and traveling to the nearby Cinque Terre, Genoa and other cities.